2022 will see Marvel Studios and DC Films go head-to-head – and Moon Knight versus The Batman is the first no-holds-barred match of 2022. After the disruption of the last two years, both Disney and Warner Bros. Discovery are determined to hit the ground running. Spider-Man: No Way Home's box office success has proved superhero fatigue is still a myth, and so both studios are focused on the superhero genre.
As a result, 2022 feels like the year the greatest comic book versus match of all time is becoming a live-action reality; DC versus Marvel. The two comic book publishers have always enjoyed something of a friendly rivalry, with writers and artists moving between the two companies; at times relations have been good enough for them to publish actually crossover stories, including the famous DC Versus Marvel miniseries in 1996. But now the comics are inspiration for a swathe of popular films and TV shows, and the rivalry is playing out on both big and small screen, as fans eagerly vie to declare who will have the best performing movie or best received TV series.
Related: WandaVision Is Still The Best Part Of MCU Phase 4: Can 2022 Beat It?
Most attention has been focused on the big screen itself, particularly given both Marvel Studios and DC Films appear to be exploring the multiverse – and even using it for a similar story purpose, bringing back past iterations of popular characters such as Spider-Man and Batman. But now – after the release of the first Moon Knight trailer – a new rivalry is emerging, between a movie and the first MCU Disney+ TV show of 2022. It's time for Batman to face off against Moon Knight.
Moon Knight & The Batman Will Both Release In March 2022
The Moon Knight vs. The Batman match is due to a quirk of scheduling – one that's no doubt deliberate on Disney's part. The Batman has a release date of March 4, 2022, and marketing is really succeeding at selling the latest incarnation of the Dark Knight – played by Robert Pattinson. Changes to Marvel's film schedule gave The Batman breathing room, with Doctor Strange in the Multiverse of Madness delayed so it didn't have to worry about a big Marvel movie coming out just a couple of weeks later. But Disney has now confirmed there will indeed be MCU content coming out in March 2022 after all; Moon Knight's first episode will air on Disney+ on March 30. It's interesting timing, because it means the show will be releasing over Easter, and in thematic terms it's worth noting Moon Knight has an emphasis on death and resurrection. But the versus match surely isn't a coincidence.
How Moon Knight & Batman Are Similar Characters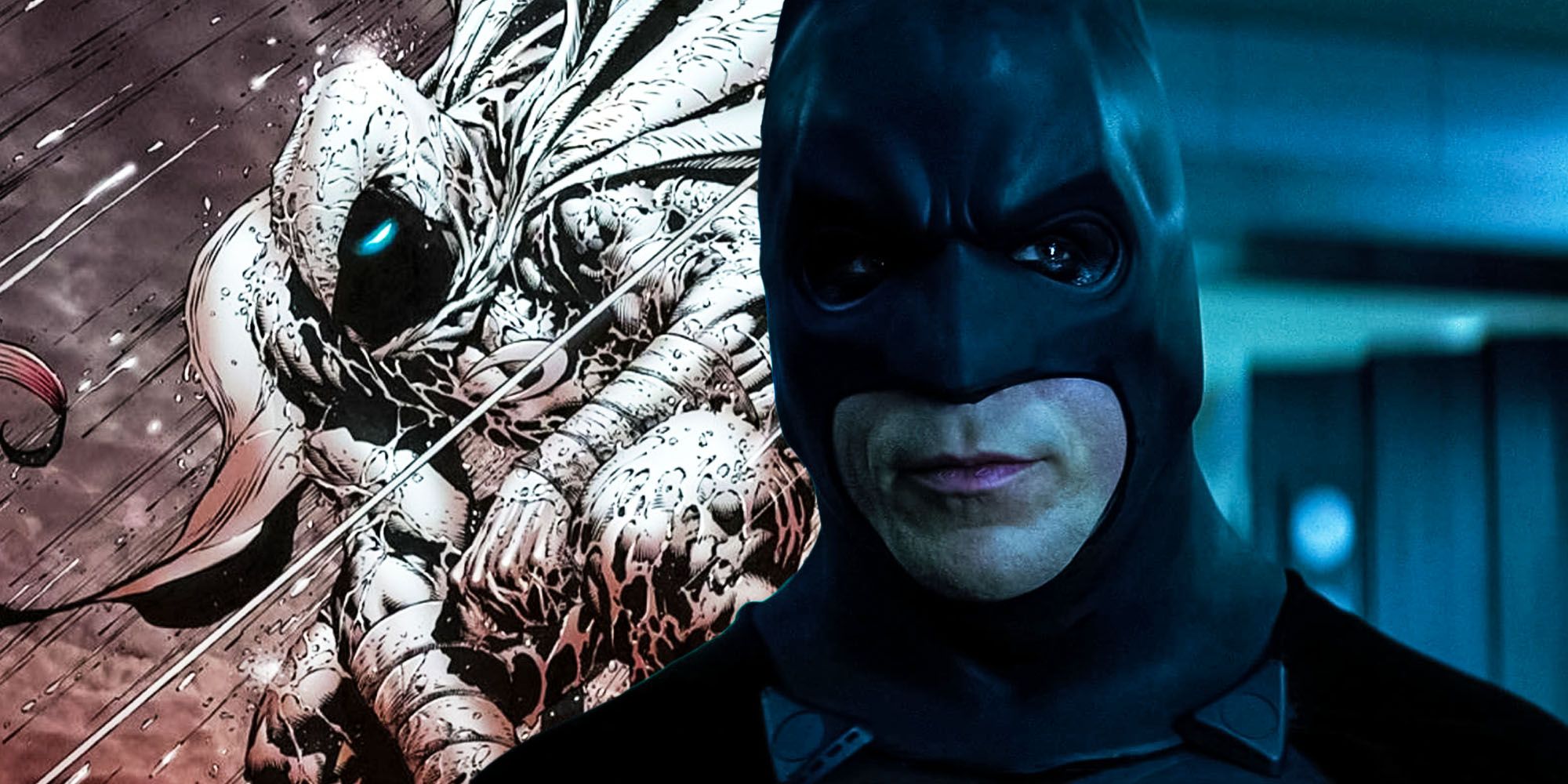 There's a degree of irony to this particular superhero versus match. Moon Knight is often described as Marvel's Batman; they're both wealthy vigilantes who depend on martial arts skills and gadgets rather than superhuman powers. What's more, the best Batman and Moon Knight stories explore the tortured minds of the heroes, bringing Bruce Wayne to the brink of mental breakdown and exploring Marc Spector's own struggle with dissociative identity disorder. The comparison isn't entirely fair, because there are actually a lot of differences as well – most notably in their attitude to killing, because while Batman has a "no killing" rule, Moon Knight will quite happily murder enemies and even random thugs on the street. This leads to their being treated very differently in their respective superhero worlds; Batman is a major figure in the Justice League, but Moon Knight is an outcast rejected by the heroes. It's telling that, during the superhero "Civil War" published in Marvel Comics back in 2006, Captain America was willing to work with the Punisher – but not with Moon Knight.
Related: Every Upcoming Marvel Studios Disney+ TV Show
Moon Knight & The Batman Have A Similar Approach To Violence
Click here to see the original post on Twitter
Ironically, though, it looks as though these differences will be muted in the first DC versus Marvel battle of 2022. Pattinson's Dark Knight seethes with violent rage against crime; it's a radically different portrayal of Batman, with the actor suggesting the various fights in the film are intensely personal, because the character is essentially working out his own anger. In one striking shot shown in the trailers, Batman takes on a thug with a series of punches; he drops to the floor, and Batman crouches over him, continuing to pummel him even though he's in no state to defend himself. This compares perfectly with a shot in the Moon Knight trailer, in which Moon Knight crouches over a defeated opponent and continues to pound into them. That particular shot seems inspired by Jeff Lemire's Moon Knight run, which left viewers unsure whether the vigilante was almost killing an actual villain – or an innocent, who had the misfortune of being misconstrued in Marc Spector's delusions. Both The Batman film and Disney+s Moon Knight show seem to have a similar approach to violence, giving them the same kind of dark tone.
Moon Knight & The Batman Are Exactly What Marvel & DC Need In 2022
Ironically, both The Batman and Moon Knight are just what DC and Marvel need for 2022. In the case of The Batman, the film is a further step away from the shared universe model that has dominated the superhero genre since 2008, and it has a solid chance of reinvigorating the Batman brand – which had been caught up in the behind-the-scenes drama of the DCEU for years. Warner Bros. Discovery is clearly confident in director Matt Reeves' film, with The Batman siring two spinoff TV shows for HBO Max. Meanwhile, Moon Knight's trailer markets the series as a welcome digression from a format that was in danger of becoming stale; it's the first Disney+ TV show since WandaVision to feel stylistically different to the mainstream MCU, and a whole lot less "safe" than the likes of Hawkeye or Loki. That makes it something of a gamble for Marvel Studios, but a necessary one, because they really need to show they can move away from the standard formula before it begins to constrict them rather than empower them.
Moon Knight vs. The Batman: Which Is More Exciting
All this means the first DC versus Marvel battle of 2022 is a particularly exciting one. It's grounded not in the spectacle of the multiverse, but rather in the grim and gritty violence of street-level vigilantes. The Batman seems to be launching an entirely new universe, one that spins out of Matt Reeves' vision of the Dark Knight, and thus it's probably the most important Batman movie in decades. In contrast, Moon Knight exists inside the context of the Marvel Cinematic Universe – and thus adds another, darker, dimension to a world viewers are already intimately familiar with. The most exciting is probably still The Batman, simply because of the electrifying chemistry between Robert Pattinson and Zoë Kravitz's Catwoman, but it's a close thing.
The irony is, of course, that the fans' focus on a superhero versus match is probably a distraction from what's really going on here. The reality is that a film and a TV show aren't really going to be in direct competition at all – and in any case, there's enough of a gap between The Batman and Moon Knight episode 1 for neither to adversely affect the other. Rather, the quirk of timing that means these live-action superhero adventures are going head-to-head is actually beneficial – especially for Disney. Viewers who enjoy The Batman will naturally want to find more grim and gritty, brutal and violent superhero action adventures to scratch that itch – and Disney+ will oblige just a few weeks later, launching a TV show that can springboard off The Batman's success. There's an old saying that "a rising tide raises all boats" – and in the case of Moon Knight and The Batman, it's certainly true.
More: Every Upcoming & In-Development DC Film
The Batman (2022)Release date: Mar 04, 2022
Doctor Strange in the Multiverse of Madness (2022)Release date: May 06, 2022
DC League of Super-Pets (2022)Release date: May 20, 2022
Thor: Love and Thunder (2022)Release date: Jul 08, 2022
Black Adam (2022)Release date: Jul 29, 2022
Black Panther: Wakanda Forever/Black Panther 2 (2022)Release date: Nov 11, 2022
The Flash (2022)Release date: Nov 04, 2022
Aquaman and the Lost Kingdom (2022)Release date: Dec 16, 2022
The Marvels/Captain Marvel 2 (2023)Release date: Feb 17, 2023
Guardians of the Galaxy Vol. 3 (2023)Release date: May 05, 2023
Shazam! Fury of the Gods (2023)Release date: Jun 02, 2023
Ant-Man and the Wasp: Quantumania (2023)Release date: Jul 28, 2023
The Batman Fan Poster Shows Bruce's Head Wrapped in Riddler's Duct Tape
About The Author